Museo Slab – the slab with Museo's friendliness
When Museo became a succes I researched some possibilities of other versions. First I couldn't find the right solutions to all Museo Slab's design hurdles, but about one year later —after a radio interview with Aaron and Matt from RBtL —my interest in Museo Slab got fired up again. Don't know why, but this time I got it all working. Have a closer look at Museo Slab in the carefully designed PDF specimen.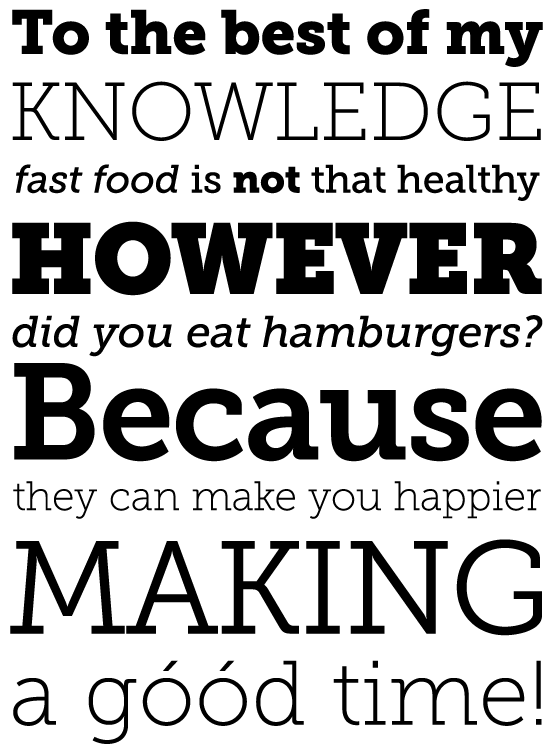 Fully Loaded
Museo Slab supports a very wide range in languages and is a complete OpenType typeface. Each weight counts 455 glyphs. You can find detailed info in the Museo Slab PDF specimen. Museo Slab is spaced and kerned with Igino Marini's wonderful iKern service.


(Free) download
Museo Slab comes in 12 styles: 100 (+Italic), 300 (+Italic), 500 (+Italic), 700 (+Italic), 900 (+Italic) and a new 1000 weight (+Italic). Museo Slab 500 and Museo Slab 500 Italic are free!

exljbris fonts are available from:

• Fontspring (prefered reseller)
• MyFonts
• FontShop

exljbris webfonts are available from: Typekit, Fontspring

App Licenses can be purchased through: Fontspring

Related links
MyFonts Top 10 fonts of 2010 – Museo Slab got featured MyFonts' Top 10 fonts of 2010.


© 2008-2021, exljbris Font Foundry |
EULA
|
Extended licensing
|
contact